Welcome to Northwood Green.net, the website for Northwood Green Village, near the town of Westbury-on-Severn in the County of Gloucestershire, UK.
Follow the links to the left for detail about village activities.
House Locations

Most of the houses in Northwood Green have names but no number. This creates problems for tradesmen and postal and courier deliveries, especially as some house names are poorly sited, or are virtually illegible. The house locations page provides a key to match house names against index numbers. Click on the image below to access it.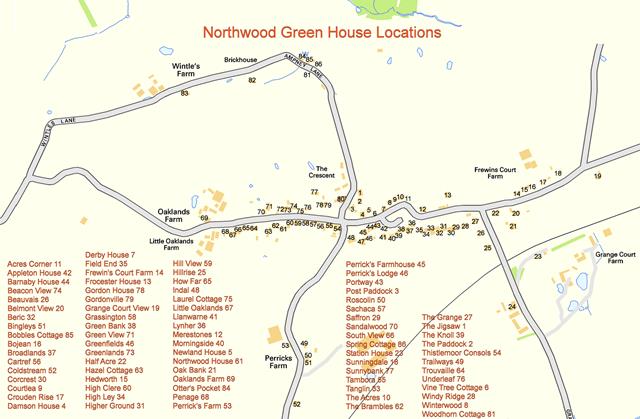 Get your club on Northwood Green.net
At the current time we are looking for people to manage the content of the club and teams sections of the site. Therefore if you are a member of, run, or organise, a Club, Team or other group we would like to hear from you. We will give you free space and an activity email adress on Northwood Green.net to enable you to promote your activities to local people (*).
If you are interested please get in touch with us at: info@northwood-green.net
Northwood Green.net Email Addresses
Would you like your own email address at Northwood Green.net?
We can arrange to setup email addresses such as your.name@northwood-green.net or housename@northwood-green.net. Email sent to those addresses would be automatically forwarded on to your individual internet service provider email address or hotmail account.
No more problems informing friends when you change ISP or company. Your Northwood Green.net email address can move with you. A one time setup fee of £5.00 will apply with a further £5.00 if you need to change your forwarding address. No annual fee will apply. We do not expect to make any profit from this, but it will help to defray the expense of running the site.
If you are interested please get in touch with us at: email@northwood-green.net