Welcome to Northwood Green.net, the website for Northwood Green Village, near the town of Westbury-on-Severn in the County of Gloucestershire, UK.
Covid 19

The Corona Virus measures will create problems for many residents of Northwood Green. People will have to cope with self isolation and/or quarantine. Communication will be a problem. If you are a Facebook user, then a group, "Northwood Green Community" has been set up to provide a conduit for people to provide updates of immediate relevance to Northwood Green, to offer help or to ask for help. A quick reference of contacts for those people who have offered to help can be found as a menu item to the left.

The Social Hall is now closed until further notice.

House Locations

Most of the houses in Northwood Green have names but no number. This creates problems for tradesmen and postal and courier deliveries, especially as some house names are poorly sited, or are virtually illegible. The house locations page provides a key to match house names against index numbers. Click on the image below to access it.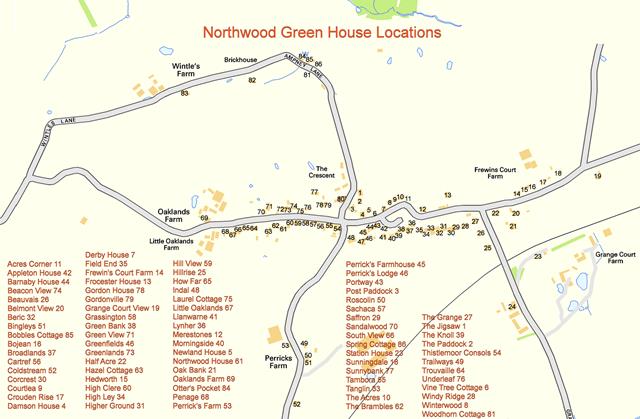 Get your club on Northwood Green.net
If you are a member of, run, or organise, a Club, Team or other group rlevant to the village or elsewhere in Westbury-on-Severn we would like to hear from you. We will give you free space on Northwood Green.net to enable you to promote your activities to local people.
If you are interested please get in touch with us at: info@northwood-green.net
West Gloucestershire Arts Society
Provides a welcoming place to hear expert lecturers share their specialist knowledge through a programme of monhly lectures. Topics include: painting, sculpture, architechture, music, drama, photography, historic houses, design, archeology, furniture, gardens, silver, textiles and jewellery. Their web site is here.